$250.00 PISTOL SAFE
(comes w/SLIDE OUT DRAWER):
HIDEAWAY: 12 1/2" x 9" x 3 1/2". Comes with one #MBHA mounting bracket
$210.00 PISTOL SAFE:
(Optional SLIDE OUT DRAWER):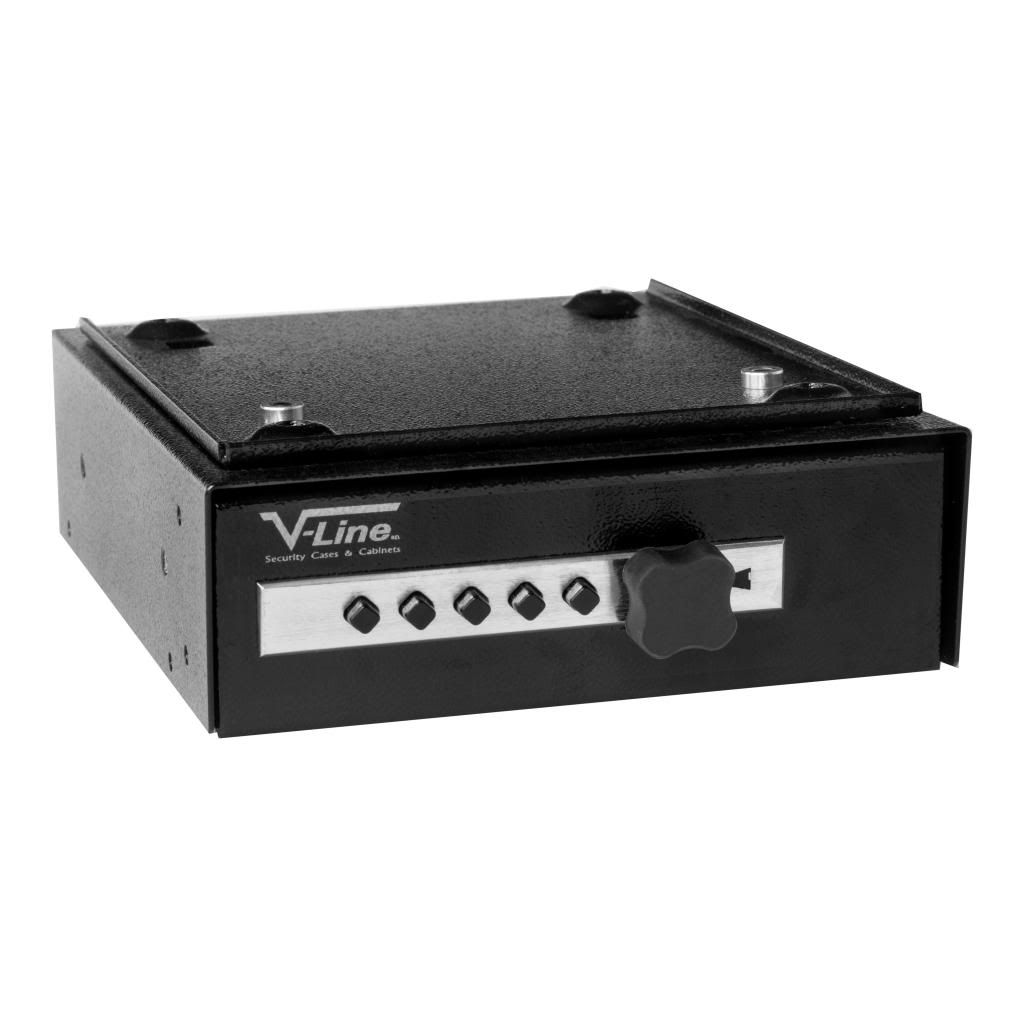 DESKMATE: 7 1/2" x 10 1/2" x 2 1/2"
SPECIAL ORDER - $100.00 Dawson Security exclusive slide out tray
(Used in Ambulances for mobile drug storage):
(Unlike other trays it will stay in the safe and not fall out):
Dimensions/ available space inside the DeskMate drawer(s) is: Width = 6 3/4" Depth = 8 3/8" standard drawer (1/16" less w/DSP stainless holder drawer) Height = 1 9/16" using standard mounting knobs = 1 13/16" if bottom drilled to allow mounting by allen head screws & an extra long allen wrench.
$35 Dawson Security gold colored handle:
$30 Dawson Security metal lock cover:
(for those who anticipate a rough ride & bouncing contents)
• Safes above include:
• Choice of color: Black
• Push Button quick access lock
• Easily reset combination lock instructions
• Easy to mount in vehicles & boats and
in & under counters/furniture
• Pry-resistent, heavy gauge steel
• Interiors are lined to protect valuables
• Quick release locking under counter and vehicle frames available:
Additional $21.00 HIDEAWAY bracket #MB2912
Additional HIDEAWAY $40.00 Over/Under bracket #UBHA
One #MBDM Mount Included with each DeskMate. Additional #MBDM $21.00 each
$32.00 DESKMATE #UBDM Over/Under Mount
Dawson Security Products dba of
Viable Vehicles, Inc.
dawsonlr@sbcglobal.net or Call 636-239-7002
Federal Vendor Code #431206642
1207 Caroline Drive, Washington, MO 63090
&copy 2003 Larry R. Dawson & Karen W. Dawson